Sacred Image: Seeing the Holy through Art, Nature, and Symbol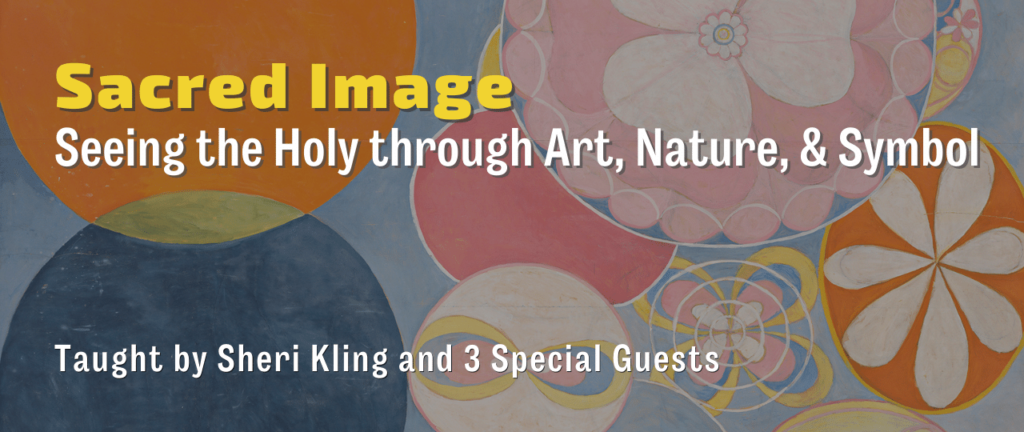 Live Session Info
Dates: March 7, 2023 – April 11, 2023
Meeting Times: Tuesdays, 4:30 – 6:00 PM Pacific
Zoom Info: Click on the session links below to access.
This six-session course explores the following questions: How can we gain access to the mystery of the invisible through the gate of the visible? Might we expand our understanding of sacred images and of the role of beauty itself?
DESCRIPTION
Modernity and its dominant rationalistic paradigm have disenchanted the world around us. Meanwhile, the growing interest in spirituality and in psychedelic or ecstatic experiences reveal a deep hunger for encounter with the Sacred. What means of access do we have today to the deep mysteries?
While many have rejected organized religion, others have mined various traditions for what is still life-giving, finding new expressions of core truths. For example, the practice of praying with icons – used primarily in Eastern or Orthodox Christianity – offers us an inviting pathway when we turn our eyes to various kinds of images. Icons are considered sacred images that according to Thomas Merton reflect "an interior presence in light." Henri Nouwen believed that icons "are created for the sole purpose of offering access, through the gate of the visible, to the mystery of the invisible."
In recent years, other sacred objects and even parts of the natural world have come to be used in the same way.
In this course, we'll explore several kinds of images to see how they might invite us into contemplation and communion with the Divine. We'll visit the visionary art of Janet McKenzie whose painting "Jesus of the People" sparked both devotion and controversy. We'll also hear directly from Mary Jane Miller about her work in contemporary iconography that manifests divine love and gender equality. Robert (Robin) Gottfried will show us how we might approach the natural world as an icon to the Divine, Sushmita Mukherjee will teach us about her practice of "deep seeing" and mandalas, and course instructor Sheri Kling will guide participants through a contemplative practice of working with dream images. Ultimately, we'll attempt to discover for ourselves our own ways of cultivating sacred vision.