---

Process and Faith Launches New "Book Club" Series
January 24, 2019 @ 2:00 pm

-

3:30 pm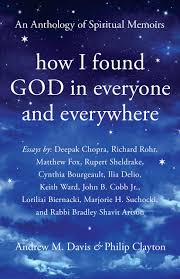 We are excited to announce that Process and Faith is launching a new Book Club! From time to time we will be announcing a featured book which we will have for sale in our bookstore, Flux, and which will be discussed in a CST group setting – both in person and online – on announced dates.
The first book in this new series is a unique CST edited collaboration between PhD student Andrew M. Davis and Dr. Philip Clayton. How I Found God In Everyone and Everywhere: An Anthology of Spiritual Memoirs is the first of its kind, featuring never-before-published accounts of the spiritual and intellectual journeys of some of today's leaders and how they have come to understand "God." With personal accounts written by Deepak Chopra, Richard Rohr, Cynthia Bourgeault, Rupert Sheldrake, Ilia Delio, Keith Ward, and others — the book offers a fascinating variety of possibilities for the spiritual path in the twenty-first century. It also features the spiritual journeys of some of the most prominent process thinkers of our time — John B. Cobb Jr. (who established the Center for Process Studies), Marjorie Suchocki (founder of Process and Faith), Rabbi Bradley Shavit Artson (the leading process thinker in Judaism), as well as Davis and Clayton, the book's two editors. It is a timely look into a still-emerging spirituality and the different ways modern leaders have "returned to God after God" today. Copies of the book can be purchased for $15.00 in the Center for Process Studies.
The P&F Book Club conversation will take place on January 24, 2019, 2:00 – 3:30 p.m. on the campus of Claremont School of Theology (room location to be announced). And we will be having the conversation with the book's editors Andrew Davis & Philip Clayton. So mark your calendars now, because you won't want to miss this opportunity to engage in lively conversation with these two dynamic people who have interacted with some of the great spiritual minds and leaders of our time. You will be able to join us for the conversation, either in person here on the beautiful campus of CST, or online in the comfort of your own home.