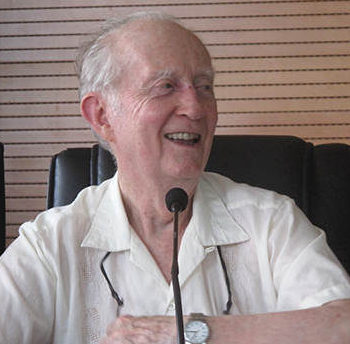 JOHN COBB'S GLOBAL SPIRIT
---
by Bruce Epperly
In my last contribution, I reflected on Bernard Loomer's vision of "size" or "stature" as the ability to embrace as much of reality as possible, including contrasting positions, without losing your spiritual center.  Perhaps no theologian in recent times has been as inclusive as John Cobb.  John has been my teacher and mentor for over forty years and has one of models upon which I have based my own teaching, ministry, writing, and administration.  I have been inspired by Cobb's vision of Christ as the embodiment and lure of God's aim at creative transformation.  In a polarizing age, I have taken to heart Cobb's affirmation that Christ is the Way that excludes no way.  Christ is the inspiration for the quest for truth and enables us to embrace wisdom and healing wherever it is found.
Cobb's global spirit is embodied in the breadth of his theological and ethical commitments.  Many theologians and scholars choose to focus on the micro, staying with the same subject matter their whole careers.  In contrast, Cobb has always been on the move, and inspires his students to be ecumenical and dynamic in spirit as well.  Cobb has been a leader not only in process theology but also in reflections on ecology and global climate change, economics, interfaith dialogue, pluralism, feminism, the intersection of theology and prayer, to name a few of the areas in which he has illumined laypersons, academics, and pastors.  Cobb's theology is both academic and practical.  His work reminds scholars that one of our vocations is to agents of creative transformation, bringing healing and justice to the world.  As a Christian theologian, Cobb asks "Can Christ be good news?" and then proceeds to share the good news of a faith that is inclusive, healing, hospitable, and growing; a faith that embraces the marginalized, placing them at the center of the theological adventure.
As students at Claremont, many of us thought that between the creativity of John Cobb and David Griffin, there would little room for innovation on our part.  Over the course of our careers, we discovered that Cobb and Griffin opened the door for our own creative thinking.  Just think of the creativity of some of my classmates – Jay McDaniel, Catherine Keller, David Lull, Rita Nakashima Brock, and Rebecca Parker!  Nothing is off limits or out of bounds for a process theologian.  If theology and philosophy are to tell big stories, intended to transform and heal the world, then nothing is too small or too large for a theologian's interest.  In my own journey, I find myself dialoging with Cobb as I embark on my own adventures as a process theologian whose work has embraced healing and wholeness, spiritual formation, ministerial well-being, biblical studies, complementary medicine, and emerging Christianity.  There is always more to explore if we are faithful to the God of process.  There are more pathways to healing than we can imagine if we affirm that the aim of the universe – God's vision – is toward the production of beauty.
I am grateful for the wisdom of John Cobb and his willingness to support his students with affirmations and inspirations.  His way invites us to see holiness in every pathway of truth and work toward healing of this good earth and its peoples.