The Last Sunday after the Epiphany: Transfiguration Sunday, 11 February 2018
February 11, 2018 | by Bruce G. Epperly
| Reading 1 | Reading 2 | Reading 3 | Reading 4 | Reading 1 Alt | Reading 2 Alt |
| --- | --- | --- | --- | --- | --- |
| 2 Kings 2:1-12 | Psalm 50:1-6 | 2 Corinthians 4:3-6 | Mark 9:2-9 | | |
On Transfiguration Sunday, we sail into the mystic, as pop musician-artist Van Morrison proclaims. Today is psychedelic Sunday, with lights, colors, and strange sounds. Even God shows up.  This is no time for a ho hum, lackadaisical sermon or worship service.  Today, there is no room for business as usual.  The challenge will be for the pastor and congregation to get out of their comfort zones and worship in ways that invite God's unexpected Spirit to show up and transfigure us.  As a child of the summer of love, today's readings have all the excitement, wonder, and mystery – dare I say terror and awesomeness – of a trip on LSD or peyote.  
What do we progressive Christians do with mystical experiences?  We can't deny them or control them, even if we haven't had them ourselves, since all the great spiritual traditions found their initial energy through paranormal experiences and encounters.  We can prepare for them by spiritual practices, but these just open the doors of perception to let in what God has in mind for us.  Our practices make a place for God to show up in surprising, shattering, but always graceful and life-transforming experiences.
In the reading from 2 Kings, Elijah is taken up into heaven, chariots of fire and all.  No words can either describe or domesticate this experience, and woe unto the pastor who tries to explain or literalize it.  All we can say is "wow!" and that "something amazing happened."  The God who comes to us in a "ladder of angels," wrestles with us at midnight, and comes to us in the form of a burning bush and parting waters is alive and well, and dramatic events still occur, unexplainable and yet embraceable.  Radical amazement is at the heart of religion, claims Abraham Joshua Heschel.  Spirituality involves the encounter with the mysterious, tremendous, and fascinating, Rudolf Otto exclaims.  Elisha views the spectacle, totally transfigured.  He has skin in the game.  He requests a "double portion" of his mentor's spirit, and if he sees the transformation of Elijah, he will receive it.
But, what is this "double portion?"  Should we also seek after it?  We are often too content with the mediocre in our spiritual lives, when God promises us mysticism and wonder. We come into the world "trailing clouds of glory," as Wordsworth asserts, and settle for paltry promises of tax overhaul.  We are made to experience the holy and we settle for earth-destroying profiteering.  Glory shines and we turn away from our children and grandchildren to write a pithy twitter message.  The world is chock full of divinity, the energy of love gives birth to every moment, and angels guide our paths, and we settle for uncivil discourse.  (For more on mysticism in the spirit of process theology, see Bruce Epperly, The Mystic in You: Discovering a God-filled World, Becoming Fire: Spiritual Practices for Global Christians, and Angels, Mysteries, and Miracles: A Progressive Vision.)
The Psalmist speaks of glory shining through Zion.  Zion is everywhere.  Thin places abound.  The earth is God's and every moment pulses divine energy, and once in awhile we notice it, and exclaim with Jacob, "God was in this place – and I did not notice it!"  The mystic vision alerts us to the reality, that God is in this place and now I notice it!
The gospel is the good news of God's salvation.  It is the good news of redemption and transformation, and new life.  But, it is more: the gospel is the encounter with the living, loving God that enlightens all things.   The words of 2 Corinthians speak of the gospel being veiled by the gods of this world.  What are the "gods" that prevent us from experiencing God?  Could they be consumerism, ersatz ecstasy, political ideology, or even theological idolatry?  The gospel will shine through – and can't be stopped by our micro-sized gods – but will we notice it when it appears?  The good news is more than a doctrine, creed, or denomination – even more than a scripture – it is new insight into God's intimate, loving, and transformative presence in our lives, a presence which raises the dead and heals the sick, and opens the doors of perception (Blake and Huxley) to the Infinite hidden in finite, passing moments.  
Today's readings join what mystical theologians describe as the kataphatic and the apophatic, that is, finding God in images, icons, and words – in the wondrous reality of arising and perishing life along with the deep mystery that can never fully be described or fathomed.
Jesus' transfiguration is as amazing as it is unexpected.  Mountains are often see as places of revelation and this mountain is no exception.  A bigger vision, a larger panorama, a greater perspective takes us beyond everyday crises, breaking news, and quotidian routines to see the deeper meaning of life.  We go from the lights of the city to lie down on the beach or mountain meadow to look at the sky and see the face of God!  That's what happened when Jesus was surrounded by light and the great figures of faith showed up to affirm his mission.  A voice from the heavens proclaims the uniqueness, the Godness, the wonder of this flesh and blood Galilean.  The disciples are stunned, and wonder what on earth is going on.  We would be stunned too, and might – as Annie Dillard counsels – strap ourselves to the pews and put on safety helmets.  
Some suggest that our earth-destruction, lack of civility, and various addictions are the result of ecstasy deprivation.  The heavens declare God's glory and we look at Facebook messages and tweet insults.  Divinity flows through our cells and souls, and we treat one another as objects to be manipulated and controlled. Today's readings are not explicitly about ethics, but in truth they challenge us to embrace what Albert Schweitzer described as "reverence for life."  We are always entertaining angels unaware.  Holiness is hidden and disguised in every creature.  Our calling to see holiness and bring it forth.  With African American mystic and prophet Howard Thurman, our religious experiences drive us to social action.  Anything that stands in the way of people experiencing their divine nature – the imago dei – must be opposed.  The tragedy of racism and sexism, and all oppressive systems, is that they stifle our imagination and sense of divine worth, especially of the children in our midst.  Transfiguration ethics tell us to see everyone as a child of God, intimately connected to us and all things.  The light within challenges us to seek structures that encourage experiences of wholeness, holiness, and possibility.  In the spirit of process theology, such experiences are not supernatural but the ever-present revelation of an omni-active, omnipresent, immanent, and intimate God.
---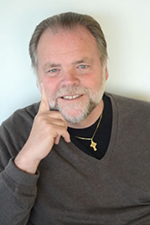 Bruce Epperly is Pastor and Teacher at South Congregational Church, UCC, Centerville, on Cape Cod, MA, and professor in the D.Min. program at Wesley Theological Seminary. He is the author of over 40 books, including Process Theology: A Guide for the Perplexed, Process Theology: Embracing Adventure with God, Process Spirituality: Practicing Holy Adventure with God, and The Gospel According to Winnie the Pooh.