The Ninth Sunday after Pentecost (Proper 13, Year A), 2 August 2020
August 2, 2020 | by JungEun Park
| Reading 1 | Reading 2 | Reading 3 | Reading 4 | Reading 1 Alt | Reading 2 Alt |
| --- | --- | --- | --- | --- | --- |
| Genesis 32:22-31 | Psalm 17:1-7, 15 | Romans 9:1-5 | Matthew 14:13-21 | Isaiah 55:1-5 | Psalm 145:8-9, 14-21 |
Genesis 32:22-31
In this final section of the Jacob cycle in Genesis, we are told that Jacob leaves his uncle Labanand returns to his birthplace and the land from which he escaped. While it describes Jacob's preparation to meet his brother, Esau, in this paragraph we approach the emotional scene of Jacob and Esau's dynamic reunion.
For Jacob, the reunion with Esau involved not just a feeling of excited anticipation; there was an unsolved problem between them. Due to Jacob's trick, their father Issac had failed to recognizeJacob and gave to him the right of the firstborn and the paternal blessing that belonged to Esau. The fact that no blessing remained for him was enough to make Esau furious, and it became a concern for Jacob. To appease Esau's anger and to make him convinced that Jacob came in peace, Jacob prepared presents for Esau, but he did not send his presents all at once. He devidedthe presents into groups and sent one drove, then another, and then another, separated by some space. Each group would then impress Esau, strengthening the assurance that Jacob sought agood relationships, not strife. Jacob's extended family and his all the possessions indicate how long it had been since he left his home (v.22).
Jacob sent his presents ahead to Esau. However, he waited another night in camp before himself departing to meet Esau. He did move his whole family, including his wives, sons and servants, over the River Jabbok, including his wives and sons and servants. Then he returned to be alone, presumably to spend the night in prayer before facing this great danger. Because Esau had been deeply angered, Jacob was deeply afraid.
As Gottwald says, the rivalry of Jacob and Esau, as the story itself implies, is an account of the enmity between Israel and Edom, the blood brothers representing the two closely related Semitic peoples. A sharp conflict over birthright functions as a symbol of the more major strife in regard to their genealogy. However, as Genesis, תלדות  represents "begettings, descendants, genealogy", the brothers' story deals with their own conflict and tribe as well. Yet, the conflict does not endin complete tragedy.  
At night, right before Jacob finally met his brother, some event occurred at the Jabbok. This place called the "Wadi Zerqa" is a sixty-mile-long tributary located east of the Jordan River, and empties into the Jordan about halfway between the Sea of Galilee and the Dead Sea. Jacob's company had moved from Mesopotamia to Gilead, where they met Laban when he caught up to them. Now they had crossed through Gilead to meet Esau, who was coming from south of the Dead Sea.
The darkness of the night symbolizes the turmoil that Jacob experienced in his soul as he tried to reconcile Esau's advance with four hundred men and God's promises to be with him and protect him and to return him to the land of Canaan. Now, Jacob is about to have to confront his past. Thus he is full of anxiety, not knowing if his brother is still angry with him.
Jacob's dream of wrestling with a man is mysterious. According to Niditch, this is "a man" who turns out to be a mysterious and unnamed manifestation of the Divine. She introduces other scholars who have explored its psychoanalytic dimensions and the way in which it provides a transformation of the hero Jacob, a rite of passage whereby he becomes Israel, returns to the land, and reconciles with his brother Esau. Some have interpreted this scene of painful transformation as recompense or necessary penance for Jacob who had cheated his brother. Even Hosea 12:3-5 refers to this incident and calls this dream image as an "angel"; however, the man/angel refused to state his name. He simply asked why Jacob asked about his name.
As Niditch argues, this scene remains mysterious, but it also presents us with a manly and heroic scene since Jacob fights with beings, divine and human, and prevails (32:28). He is trickster Jacob, but he encounters the divine being, and then names the place Peniel (v.30), meaning "Face of God." The fight with a man carried an urgent request to God to help him through the great trial he was about to face with Esau. The mysterious event may reveal the other side of the effeminate trickster concretely, and shows a way of becoming a new being, Israel as well.  
Psalm 17:1-7, 15
Even here, the author is not safe since David is pursued by Saul. He calls on the God of all for assistance: Hear a just cause, O Lord; attend to my cry; give ear to my prayer from lips free of deceit (v.1, NRSV). This prayer for justice (or righteousness) is grounded not on a claim toperfect virtue but on the author's righteous appeal. There are the cries for help; a description of the suffering endured, declarations of the psalmist's innocence, a list of the sins of the enemies, and a call for punishment of the wicked. Even at that moment, God's steadfast love חסד gives the psalmist confidence that God will eventually come to the rescue (v.7). The psalmist who seeks God's righteousness and relies on God's hesed חסד will see God's face in righteousness (v.15). Stemming from God's righteousness will come the comfort for people in the midst of hard times; "When I awake (from our own darkness night) I shall be satisfied, beholding your likeness." The face of God – for people who are in trouble – for Jacob, David, and now for us – will fill us withjoy, even in the midst of our troubles.
Romans 9:1-5
This paragraph shows God has chosen to bring many of the greatest spiritual blessings through the nation of Israel. It was for that reason that Paul had such overwhelming grief for their unbelief. (v.1-3). All blessings – adoption, glory, covenant, giving of the law, worship, promise, patriarchs, human ancestry of Christ – were bestowed from God and they clearly show God's sovereignty and love. Verse 5 states God's choice of Israel was not due to the worthiness of Israel. The principle of partiality regarding the predilection of God can be controversial since this option may limit how we understand the universality of God's love. Israel deserved preference, not because it is are morally or religiously better than other nations, but because God is God.
With maintaining the remained question, we may spend some time reflecting on Paul's enthusiasm for and commitment to Israel, revealed in his grief as he began to address this question (v.1-3), something he describes as a 'descent into depths of existential angst'. Yet, what is essential to note is the distinction Paul draws between Judaism (ethnicity) and the chosen people of God (inheritance), culminating in the assertion: It is not as though the word of God had failed. For not all Israelites truly belong to Israel. (9:6, NRSV)
Matthew 14:13-21
The Story of feeding the five thousand is one of the miracle stories with which we are familiar. At the same time, it replaced the mood of the previous verses that dealt with the death of John and the image of John's head on a dish (v.12) and the dinner unfolds in another fashion. Levine argues that the meal of horror "yields to the foreshadowing of the messianic banquet." Eventhough Matthew's androcentric perspective did not include children and women, the banquet included enough food to feed all the people who followed Jesus in that day, which probably numbered around 10,000 people if the excepted people are included. This messianic banquet reminds us of having the Passover supper. This can be seen in Matthew 26:17-29 and is culminated in 26: While they were eating, Jesus took a loaf of bread, and after blessing it he broke it, gave it to the disciples, and said, "Take, eat; this is my body." (NRSV). These words find their parallel in John: "Jesus said to them, "I am the bread of life. Whoever comes to me will never be hungry, and whoever believes in me will never be thirsty" (6:35, NRSV).
Within our current and unprecedented situation of suffering, we may require a new imaginationthat moves beyond being simply thirsty and hungry. We might seek a more active imagination that must be actualized enough to allow God's great love to be spread into the growing gap between income levels, since in this pandemic a great deal of suffering is the result of social and political injustice that has led to the creation of greater wealth for the few and greater poverty for the many. Because there is no difference within Christ our Lord, rather it embraces all humanity.
---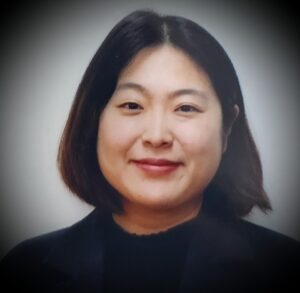 JungEun Park is a Korean Methodist Pastor and Ph.D. student at Claremont School of Theology in Process Studies. Her research interests include Ecofeminism; Eco-Process Thought; Political Theology; Christian Social Ethics.