The Third Sunday in Lent (Year C), 24 March 2019
---
March 24, 2019
| | | | | | |
| --- | --- | --- | --- | --- | --- |
| Reading 1 | Reading 2 | Reading 3 | Reading 4 | Reading 1 Alt | Reading 2 Alt |
| Isaiah 55:1-9 | Psalm 63:1-8 | 1 Corinthians 10:1-13 | Luke 13:1-9 | | |
by Nathan Mattox
Isaiah 55:1-9
In this beautiful passage from Isaiah, the universal appeal of the Divine is pictured as a great feast. God's lure is given to all, regardless of what the world might consider signs of Divine favor. The riches and bounty of a God brimming over with goodness is like water to those who thirst, and a great sumptuous feast to those who are starving.
Isaiah's appeal is to "seek the Lord while he may be found, call upon him while he is near." The invitation is made even to those who have lost their way. The unrighteous and wicked are invited to take heed as well. God grants mercy. The feast is for all. While this may seem strange to our human understanding of "fairness," Isaiah hears God assuring those who might scoff at such unmitigated generosity, "For my thoughts are not your thoughts, nor are your ways my ways, says the Lord. For as the heavens are higher than the earth, so are my ways higher than your ways and my thoughts than your thoughts" (55: 8-9). What a beautiful summation of prehending the Divine Aim. Certainly, the Divine thought that organizes the whole into a coherent aim for the future that brings about the best possibility in every moment is "higher than our thoughts." This is the nature of the Divine in the Process orientation. Quite the contrary of being "immutable," God is the one being in the universe who is effected by every single thought and being in the universe throughout all of time. Such a wonderful being would have ways and thoughts that are as far from my own inward focused thoughts and ways as the earth is from the heavens.
And yet, there is a circuitous interaction between heaven and earth, and between God's ways and thoughts and our own. Isaiah hears it being compared to the mysterious cycle of precipitation, nourishment, and evaporation in the water cycle. I don't know of a more Process-affirming description of God's creative-responsive love in the Bible as verses 10-11 of this passage, "For as the rain and the snow come down from heaven, and do not return there until they have watered the earth, making it bring forth and sprout, giving seed to the sower and bread to the eater, so shall my word be that goes out from my mouth; it shall not return to me empty, but it shall accomplish that which I purpose, and succeed in the thing for which I sent it."
This beautiful process-affirming relationship of God and creation is then given the exclamation point of the image that follows, of human and non-human creation involved in the dance of this creative-responsive love. Joy and peace among humans is welcomed by the trees "clapping their hands," and the mountains and hills breaking into laughter. Creation is fulfilled when the welcoming word of God is universally heeded.
Psalm 63:1-8
Once again, "seeking God" is uplifted as a theme in the text, and the great joy that comes from such a pursuit is elaborated upon this text. As with Isaiah, the Psalmist compares the seeking soul as "thirsty." In Isaiah, the thirsty soul is being beckoned to the fresh spring of water, in the Psalm, the thirsty soul is parched and faint in a dry and weary land. The Psalmist knows that God is the source of replenishment, and praise and basking in God's love is its own reward.
Also similar to the prophetic vision of Isaiah, rejoicing in God is compared to participating in a rich feast. The meditation on God's nature is a source of comfort at night and in the face of enemies. The Psalm seems to be a mixture of lament and praise, thus it is a good Psalm to hear during Lent, which embraces both motifs of the spiritual life in one season. The convolution of satisfaction and yearning in this Psalm give voice to the "back and forth" of a season characterized by 40 days of rigorous devotion and fasting punctuated by Sundays that are always "Little Easters," even as they come in the midst of a season characterized by Lament and preparation. (Perhaps since we've become accustomed to relegating our worship life to Sundays, we miss out on this opportunity to let Sundays be the "easing" of the rigors of Lent that they are meant to be, but that is how the season is conceived. The forty days of fasting that mirror Jesus' own time in the wilderness is not inclusive of the Sundays that fall during Lent.) In any case, the Psalm might give the preacher an opportunity to speak about the rhythm of spiritual life, and the inclusion of lament and praise coexisting in the same season and text.
1 Corinthians 10:1-13
As Paul gives these words of warning, "drinking of Christ" is not some magical elixir that makes everything all right, our conduct should be reflective of a living relationship—a connection to creative-responsive love. As James also says, "be doers of the word" (James 1:22). If followers of Jesus think of the hardships and opportunities to be faithful witnesses of the action of Christ in our lives as a "test," then perhaps we will be more attentive to the power of our witness and conduct. This lesson from Paul is focused on morality. The example of the wandering Israelites is given as a people on a journey who had the same access to Christ (in the cloud, and through the water that they imbibed as Moses struck the rock) as his hearers. Participation in creative-responsive Love will be evident in those who have tapped into it as a beacon to a parched world.
The passage ends with words that are spoken at the communion table by a priest blessing the sacrament. Here, we find the food for the journey that gives us a tangible reminder that we can "taste and see that the Lord is good" (Psalm 34:8). The sacrament (should/could be) a weekly "fuel station" for the journey of faith. This journey should be evident to our friends and neighbors who might be drawn into the journey where "no one will be tested beyond their strength" (10:13), but on which tests are a "strengthening" of faith.
Luke 13:1-9
Jesus tackles the question of theodicy in this passage from Luke. Notably, in his time, prevailing wisdom said that one's negative actions would come back to haunt them, and that victims of disasters must be paying some retribution for past sins. Jesus refutes that line of thinking, but utilizes the opportunity to focus his hearers on their own repentance. "Do you think they were worse sinners than others here?" Jesus reminds us that instead of pointing out the sin in others, we should be focused on our own lives, as he says elsewhere, "judge not, lest ye be judged." The process preacher might remind their congregation that this is a season of self-examination. Like the barren fig tree, we are to spend a season of being fertilized and nurtured so that we might bear fruit. Lest our focus stray to a strictly outward focus on societal ills, we instead must be attentive to our own participation in injustice and oppression. The whole passage follows an interpretation on apocalyptic signs. Here, he tamps down the apocalyptic impulse to point out every disaster as a sign of God's judgment. We are being given time to bear fruit, and that "by their fruits you will know them." As we become more and more acquainted with the rhythm of God's Divine Aim, we might "join in the song" and fruit will be evident in our lives. Divine judgment certainly has a different meaning in our process orientation, but repentance, taking ownership over our "missing the mark," is an aspect of humility that keeps us attuned to creative-responsive love.
---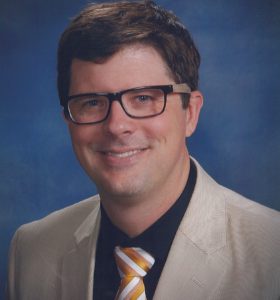 Rev. M. Nathan Mattox graduated with an MDiv from Claremont School of Theology in 2005, and has since served United Methodist congregations in Arkansas and Oklahoma, most recently University United Methodist Church in Tulsa since 2011. A fellow of the Fund for Theological Education, National Council of Churches Ecological Justice Young Adult fellowship, Collegeville Writer's Workshop, and the Hendix Institute for Clergy Civic Engagement, he also started the University Church Network, a collaborative resource for churches on or adjacent to university campuses. Nathan has been blending a family since July of 2017 with his wife Myranda, and enjoys the company of four children, a dog and a cat.