The Twentieth Sunday after Pentecost (Proper 25-C), 27 October 2019
---
October 27, 2019
| | | | | | |
| --- | --- | --- | --- | --- | --- |
| Reading 1 | Reading 2 | Reading 3 | Reading 4 | Reading 1 Alt | Reading 2 Alt |
| Joel 2:23-32 | Psalm 65 | 2 Timothy 4:6-8, 16-18 | Luke 18:9-14 | Sirach 35:12-17 or Jeremiah 14:7-10, 19-22 | Psalm 84:1-7 |
by Marjorie Suchocki
Our focus for each Sunday this month will be on the gospel texts. Each of these selections tell stories that are well known to most parishioners. Turn that to your advantage by telling the story, not just reading it. I've tried to model that for you by telling each of the four stories as if to an audience.
               ~ Marjorie Suchocki
Again, we have one of the most familiar parables. "And [Jesus] also told this parable to certain ones who trusted to themselves that they were righteous, and viewed others with contempt."
There you have it, he's describing our congregation — or our district — or our Conference — or General Conference? — or whatever our church structure may be — again! Or, oh horrors, what if he's describing ME? For it's that parable of the pharisee and the tax collector, and it applies to anyone who has even a tinge of self- righteousness.
Imagine it again: There he is, that church leader, or perhaps the very religious town official or business owner. He has finished his prayers, and thinks to himself as he leaves the church, "thank God I am not like other people! Ugh, swindlers, the unjust, adulterers — or tax avoiders, or those insufferable big city people, or politicians, or white nationalists — and especially not people like that tax collector over there, collaborating with the government the way he does! Nor am I like that miserable migrant cowering in that back pew — oh, I see him! — who probably tries to syphon food stamps from the government and can't even find a place to sleep in a country that doesn't want him here in the first place! Probably he's even asking God for a hand-out! Ugh! Thank GOD I'm not like these people! (ah, what a relief it must be to God to hear MY prayers, clothed as they are — as I am! — in righteousness!)"
And this person smugly reviews to himself his many fine qualities — he not only tithes, sometimes he even throws in a dollar or two extra! And he helps out in the food pantry, doesn't he? Even he, important as he is in the community, even HE helps these lowly people out! How they must enjoy seeing such a fine person stoop to their level; they probably can sense how holy he is! Or at least he imagines that's what they think as he rehearses all his goodnesses on his way out of church.
He doesn't give more than a passing glance, of course, to that poorly clothed migrant sitting as far away from the respectable folk as he can get, in a back corner of the large church. Nor does the migrant notice the rich man, for he is deep in prayer, and he, too, is self-reflective. "Oh God," says the migrant, "I have really messed up! My poor children — at least there were crumbs at home, despite those threatening cartels! What have I done, thinking I could bring them to a safer, a better life, here in this rich country? Oh God! How can you even hear such a one as me? I am such a sinner, not even thinking clearly… my poor dear wife, my children — oh God!" and he could not even lift his eyes to the shining cross way at the front of the sanctuary. "Oh God," he sobs into his hands, "be merciful to me, a sinner."
"I tell you," says Jesus, "this migrant goes out of this church justified, rather than the other. For everyone who exalts himself shall be humbled, but he who humbles himself shall be exalted."
Will we join the God of heaven and earth — will we join our Lord and Savior Jesus Christ — in hearing and helping this poor migrant?
---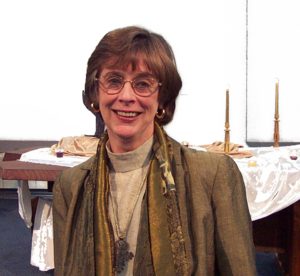 Marjorie Hewitt Suchocki is Professor Emerita, Claremont School of Theology, Faculty Co-Director Emerita of the Center for Process Studies, Director Emerita of Process and Faith, and the founder and former Director of the Common Good International Film Festival (formerly, Whitehead International Film Festival). Among her many books are God Christ Church: A Practical Guide to Process Theology; The End of Evil: Process Eschatology in Historical Context; The Whispered Word: A Theology for Preaching; In God's Presence: Theological Reflections on Prayer; and Through a Lens Darkly: Tracing Redemption in Film.