The Twenty-Second Sunday after Pentecost (Proper 27-C), 10 November 2019
---
November 10, 2019
| | | | | | |
| --- | --- | --- | --- | --- | --- |
| Reading 1 | Reading 2 | Reading 3 | Reading 4 | Reading 1 Alt | Reading 2 Alt |
| Haggai 1:15b-2:9 | Psalm 145:1-5, 17-21 or Psalm 98 | 2 Thessalonians 2:1-5, 13-17 | Luke 20:27-38 | Job 19:23-27a | Psalm 17:1-9 |
by David Grant Smith
Haggai 1:15b—2:9
Process philosophy/theology asserts that reality is made up of events and occasions, rather than matter and substance as is asserted in most western philosophy. In a process worldview, reality is about time, becoming, and process, rather than about matter, being, and substance. Haggai (like many of the prophets) frames his writings and actions at very specific points in time — "In the second year of King Darius, in the seventh month, on the twenty-first day of the month…" Translating this into modern calendars, scholars are able to pinpoint this to a recognizable date and year — October 17, 520 bce. It was at this point in time that a certain set of circumstances came together, concrescing into what is described here in the book of Haggai — the Babylonians had invaded their country, had destroyed the temple, and had taken a significant portion of the population into captivity in babylon, some of those captives have now returned home, and now it is time to rebuild the temple and restore it to its "former glory."
At each moment in our lives, we are continually experiencing Alfred North Whitehead's assertion that "[t]he many become one, and are increased by one," (Whitehead, Process and Reality, 21). Each moment can be understood as many complex details always coming together to help form the experiences we have. This was the case for Haggai, too, of course. When he experienced "the word of the Lord" on that October day in 520 bce, many things had led up to and contributed to that moment for him. And the same is true for us as well. We are always being bombarded by many events, moments, occasions, and experiences around us; and they are continually concrescing into the various moments, occasions, and experiences which make up the trajectory of our lives. And, like Haggai and all the other prophets, the "word of the Holy One" is also continually coming to us. God is constantly luring us toward best possible outcomes and creative transformation of the world for the common good in the midst of all the many circumstances which surround us and which stack up to create our past. 
How do we discern God's lure amidst the cacophony of all the countless stimuli which surround us? How can we tell if something which "comes to us" is the Divine lure, or our own agenda, or the idea of a wayward public figure's influence (and there are more than a few of those around us at any point in time, to be sure!)? This matter of discerning the importance and relevance of the myriad influences which comprise our moment-by-moment becoming could make for a great exploratory sermon with a congregation. Ultimately, we can come to understand that God, who is dynamic and who is always also in the process of becoming, does have a consistent nature of goodness, and would only ever lure us toward beauty, truth, adventure, zest, art, peace, love, and justice. When we weigh the various "incoming" influences in each moment — whether they come from the past or the present — we can learn to be grounded in a sense of ongoing awareness and discernment which helps us to constantly ask to what end these influences might be wanting to lead us. If the influences feel coercive, or if they are aimed toward qualities at odds with those listed above, we know that these are not from God and can be considered accordingly.
Not unrelated to the spiritual practice of ongoing discernment, there is another process-relational theme which is evident in this passage from Haggai — omnipresence. Process theology does not assert that God is omnipotent (which becomes problematic when matters of evil and suffering arise); rather, we understand God as being omnipresent. This is spelled out specifically when the prophet relates the message from God to his compatriots: "take courage, all you people of the land, says the Lord; work, for I am with you, says the Lord of hosts, according to the promise that I made you when you came out of Egypt. My spirit abides among you; do not fear" (2:4b-5). Even as God is continually luring us toward God's holy purposes, God is also intentionally dwelling — "abiding" — with each of us and with all of us. How might our lives be lived if we work to become intentionally more and more aware of that reality?
Another theme related to these other two is that in process theology we understand the future to be open — that in the future there will be surprises for both us and God. This is important to keep front and center in the various contexts of ministry, but perhaps it becomes even more crucial for preachers to bring up this perspective when biblical texts arise which have sometimes been used to imply something contrary to that — the idea that God "controls" the future. There is even an added layer of urgency to address this topic when language about wealth and riches are encountered, words like: treasure, silver, gold, splendor, prosperity (2:7-9). The prophet Haggai's message to the people isn't that they will become rich if they agree to help rebuild the temple. But rather, as Eric Meyers suggests, the message of Haggai is that "God's return to his holy abode in the Temple is symbolized by the 'riches' of the restored Temple and God's glory that will now fill it (vv. 6-9)" [Eric Meyers, New Interpreter's Study Bible, Haggai 2:1-9]. The riches referenced might be literal in terms of how the temple will eventually become adorned; but that is in the future which is open and unknown in October of 520 bce. But the riches referenced can also be understood as metaphoric (or, as Marcus Borg liked to say "more than literal") in terms of how the people are already being enriched by God's eternally dwelling among them!
Psalm 145:1-5, 17-21
This week's response to the first reading is a selection from the beginning and ending verses of one of the so-called Aleph-Bet Psalms — that is, it's one of the psalms which, in the verses of the original Hebrew, make an acrostic of the Hebrew alphabet (or Aleph-Bet). The majority of the poetry here is aimed at giving praise to God, and blessing God, for all of God's wonder-filled greatness and majesty. These positive affirmations of God and God's nature could easily be used to provide examples of how our relationship with God is interdependent, and how God's consequent nature is enriched by all acts of love, and perhaps in a special when we intentionally share our love and affection directly to God. By the same token, God's consequent nature is edified and enriched when we direct our love, affection, and compassion toward our neighbors.
Another process-relational aspect of this week's psalm text is found in the assertion that God "is near to all" who call upon the Holy One (v. 18). Just like the prophet Haggai, the poet of this psalm is convinced that God is omnipresent, and is providing a ministry of Presence in our midst. Doctrines of God's omnipresence have historically been used to intimidate and coercively work towards controlling peoples' behaviors — God sees you when you do naughty things! — in much the same way children are often taught that Santa Claus is watching them and making lists of who is naughty and who is nice. But in process theology, we assert that God's eternal and abiding presence with us is a witness to God's enormous love and affection for us. God cares for us, which is why God is constantly with us and is always working to persuasively and lovingly lure us toward best possible choices for the common good.
Though these verses from Psalm 145 provide some helpful assertions from a process perspective, we also see in verses 19 and 20 some bad theological assertions which would be good to confront in front of a congregation. Verse 19 states that God "fulfills the desires" and "saves" all of God's faithful people; and verse 20 proclaims that "all the wicked [God] will destroy." The idea that God will always and only bless faithful/religious people, and that only faithless/evil people will suffer harm is something that (a) all of us know to be false due to our own experiences of how the world seems to operate in a much more random way than that; and (b) that the biblical witness provides assertions to the contrary of this particular biblical assertion [e.g., Jesus' statement that God makes the "sun rise on the evil and on the good, and sends rain on the righteous and on the unrighteous" (Matthew 5:45b)]. We can't go back in time to interview the original poet of Psalm 145 (or any other scripture), but we can carefully discern whether certain aspects of the psalm are poetic license, as opposed to theological absolutes. Intentional discernment will help us to avoid falling into the trap of Omnipotence and other Theological Mistakes (as the title of a Charles Hartshorne book puts it).
2 Thessalonians 2:1-5, 13-17
Apocalyptic literature is intentionally vague. The apocalyptic passage included in this week's epistle reading makes references to the "lawless one," "the one destined for destruction," one who "exalts himself above every so-called god or object of worship," and one "declaring himself to be God." Is the letter's author referring to a personification of evil, such as Satan or the devil, or to a historical figure who intentionally worked against God and God's purposes, such as Caesar — who, scholars believe, would have been the emperor Caligula, and who wanted to "have his image erected in the Temple at Jerusalem (40 ce)" [Raymond F. Collins, New Interpreter's Study Bible, 2 Thessalonians 2:4]? We can't be sure, since we are two millennia removed from the original contexts into which these heavily symbolic words were initially offered. But we can look to other similar writings, and we can see that the main concern with apocalyptic writings is a concept known as "the day of the Lord." The phrase "the day of the Lord" wasn't a new concept when early Christians began using it. It was a phrase in the Hebrew Scriptures, where it is "used by the prophets to describe God's cataclysmic intervention into human history" whereas Christian authors of the New Testament "consistently relate 'day of the Lord' to Jesus' parousia" [Raymond F. Collins, New Interpreter's Study Bible, "Excursus: Day of the Lord," 2 Thessalonians 2] — the idea that Jesus was coming back to save the faithful from persecution, and to judge the persecutors.
The author of today's passage is, clearly, urging the Thessalonians to not be worried about this day. The author seems to be asserting that things will need to get much worse before anything like this will take place — the exact meanings of the symbolism in the author's message are lost to the particularities of time and the particularities of the context that the author and the Thessalonians shared. But the admonition to not "be quickly shaken in mind or alarmed, either by spirit or by word or by letter" seems to harken to the message of Jesus (which would have still been an oral tradition, predating the writing of the canonical Gospels), who told his disciples to "not worry about tomorrow, for tomorrow will bring worries of its own. Today's trouble is enough for today" [Matthew 6:34].
With all that said, a process-relational preacher may want to provide another reading of this text. Focusing on the idea that the future is always open, and is subject to fluctuations, we can proclaim that the future depends on the way that individuals and/or collectives choose how, whether, and to what extent they will combine their past experiences with the Divine lure in the present moment. This could lead us to look at "the day of the Lord" in a new light. What if "the day of the Lord" is to be understood such that the parousia of Jesus is a potential in every moment? Each moment is an opportunity for discerning how we, like Jesus, will choose to incarnate the initial aim of God. By this reading of the text, it is an affirmation that (a) we need not find "the day of the Lord" as something for which we need to be "quickly shaken in mind or alarmed," and (b) that "the day of the Lord" has indeed already come and that it continues to keep coming to us in every moment of every day, and that this is something to be celebrated rather than feared.
The author of the letter goes on to write glowingly of the Thessalonians, states that they are well prayed for, and then urges them to "hold fast to the traditions" that they were taught. Whether it's this particular passage or a similar kind of admonition in other parts of the New Testament, this notion of holding fast to tradition is often interpreted to mean that that the Christianity of the early Church should be kept exactly as it was way-back-when, and that it should remain fixed and unchanging. This approach to church tradition is, of course, a slippery slope, as it tends to lead to dogmatism and rigidity. Though dogmas have come and gone over the course of Christian history, yet the Church has continued to adapt to the social, political, cultural, and ethnic influences with which it has come in contact, as well as the ever-evolving extent to which technological and scientific advances have shaped the world in which the Church lives and moves and has its being.
So, how does one "hold fast" to tradition without seeing religion as being rigid or static? And how might 21st-century Christians take to heart this kind of admonition in 2 Thessalonians (and other New Testament and early Church writings)? It's easy enough to see that if we work to see faith, religion, and Christianity itself as being dynamic and evolving, we are less likely to suffer the rigidity of dogmatism. Alfred North Whitehead himself took on this difficult question:
Religions commit suicide when they find their inspirations in their dogmas. The inspiration of religion lies in the history of religion. By this I mean that it is to be found in the primary expressions of the intuitions of the finest types of religious lives. The sources of religious belief are always growing, though some supreme expressions may lie in the past. Records of these sources are not formulæ. They elicit in us intuitive response which pierces beyond dogma [Whitehead, Religion in the Making, p. 144 (italics added for emphasis)].
The roots of religious traditions are not static dogma, but dynamic lives. The inspiration for our faith comes from the legacy of faithful people, rather than dogmas, doctrines, or formulaic creeds. The author of 2 Thessalonians, was urging what seems to be a rather process-relational understanding of how religious communities rely on the inspiring examples of people to keep the tradition flowing from one concrescence to another, from generation to generation. It is more than slightly significant that the author of this letter urged its readers to hold to traditions rather than to beliefs, which would lead toward a rigid dogmatism, which would have been both heresy and a death-knell for the early church, because "Idolatry is the necessary product of static dogmas" [Whitehead, Religion in the Making, p. 147]. It is by continually and intentionally mixing together inspiration from "the finest types of religious lives" of the past, with what we perceive to be the Divine lure, as well as our own creativity and novelty in the present moment, the "traditions" of the Church remain as living, breathing, and dynamic realities in our life of faith.

Luke 20:27-38
The tangled scenario which the Sadducees pose to Jesus would be almost comical, were it not for it being so thoroughly steeped in the patriarchal notion that wives are property of their husbands, and that the primary consideration for their marriage is for the procreation of children — preferably male children, thank you very much — for the sole purpose of perpetuating the man's name and legacy beyond the span of his own life. Jesus' clever response not only points out the ludicrous nature of the scenario which has been presented to him, but it also removes some of the layers of patriarchy by implying that that women may actually have a voice and a choice in marrying and being given in marriage. An anti-patriarchal approach to this (or any other) text is also a process-relational approach to reading scripture in that both feminist and process theologies affirm the notion of interdependence — the idea that everything we do, for good or ill, has a direct impact on all the others with whom we share life on this planet (as well as the planet itself). 
That said, there is also the potential for a sermon to be developed which explores how one understanding of resurrection is how everything we do or don't do, everything we say or don't say, is constantly being received into the consequent nature of God, and is held there forever. Ultimately, once our earthly lifespan has come to an end, we ourselves will have been totally received into the consequent nature of God. Process theologians don't have any level of agreement as to whether our eternal presence in God will be something we experience subjectively for ourselves, or if our presence in God will be more of an objective reality of how God continues to hold us beyond what we are able to perceive for ourselves. Either way, the process vision of all things being held eternally in the consequent nature of God is not unlike Jesus' assertion that God is "God not of the dead, but of the living; for to him [sic] all … are alive."
Maybe a sermon could be preached with the idea that because the God of Abraham, Isaac, Jacob,  Moses, and Jesus — as well as the God of Esther, Deborah, Ruth, Miriam, and Mary! — sees all these people as alive and not dead, then perhaps we can see them that way, too. How do we keep the trajectory of their lives, their faith, their witness, and their mitzvot (their righteous deeds) alive in the living of our own lives? How do we perpetuate the sense of justice to which they were committed? And how do we add our own creativity and novelty to the mix, knowing that what we do is also being received into the Divine? Rather than being concerned about how (or even whether) we will experience an eternity in heaven, we could be more concerned with how our lives in the here-and-now reflect God, God's purposes, and the multitudinous saints and heroes of our faith. Perhaps we can learn to see ourselves as agents of resurrection by continually raising up these holy examples into the living our lives, rather than worrying about what our life will look like in an open future in the consequent nature of the God who empowers us to live transformational lives in the immediacy of the present moment.
---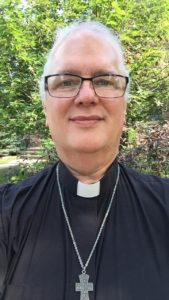 The Rev. David Grant Smith is a priest in the Episcopal Church, and is presently pursuing the D.Min. degree at Claremont School of Theology, focusing his studies on process theology as a resource for parish ministry and spiritual care. While at CST, David is thrilled to be currently working as the Process & Faith Coordinator at the Center for Process Studies. He has served in both parish ministry (Episcopal Diocese of Rochester) and as a hospital chaplain (Christiana Hospital in Newark, DE; and the Johns Hopkins Hospital in Baltimore, MD). Prior to ordination, David worked for many years as a lay professional, serving as pastoral associate, choir director, organist, and minister of music. In addition to his interests in weaving Process Theology in and through preaching, liturgy, teaching, and pastoral care, David enjoys travel, writing, tea, wine, and spending time with family & friends.