Twentieth Sunday after Pentecost (Proper 22), 7 October 2018
October 7, 2018 | by Marjorie Suchocki
| Reading 1 | Reading 2 | Reading 3 | Reading 4 | Reading 1 Alt | Reading 2 Alt |
| --- | --- | --- | --- | --- | --- |
| Job 1:1; 2:1-10 | [Psalm 26] | [Hebrews 1:1-4, 2:5-12] | [Mark 10:2-16] | | |
Job: Faith in Tough Times
NOTE: If you choose to preach from Job, It is essential that you first re-read the entire book. Each lectionary text requires its full context .
October 7: Job 1: 1, 2:1-10
The story begins by establishing Job's righteousness, then immediately switches to the court of Heaven, where God has gathered "the sons of God." Satan joins the gathering, and God asks where he has been. "Roaming about on earth," Satan answers, to which God responds by asking if he has noted Job in his travels, and seen how exceptionally righteous the man is. Satan's answer is well-known: Of course Job is righteous, why wouldn't he be? Doesn't he have everything a person could possibly desire? It's like a gauntlet flung down before God, so God gives Satan permission to afflict Job so long as he doesn't touch his person. Children and livestock and wealth of all kinds can be taken away, and still Job will be righteous! Job does indeed pass the test, and so Satan ups the ante: "what if I take away his health? will he be quite so pious then? And God gives permission: Job becomes afflicted from head to toe with horrible, relentlessly painful boils. Even Job's wife, seeing his misery, tells him to curse God and be done with it all; die! Job's answer? I accepted the good, shall I not also accept the evil?
How do we preach on such a story? Questions abound: who is this Satan figure who joins "the sons of God" in the heavenly court (not to mention the question of who, exactly, are these "sons of God"—isn't Jesus the ONLY such son?)? The Satan in Job does not seem to be the same as the figure in Milton's "Paradise Lost" who was flung out of heaven! And where is the "omniscience" of a God who has to ask the party-crasher where he comes from? Nor does God seem at all troubled by Satan's presence—to the contrary, he makes a bet with him.
This opening picture of God is deeply important to the story, because the final chapters of the book starkly contradict it. Thus this opening story of Job cannot be taken literally—but perhaps the image of God in a heavenly throne room was a common image of God for the time in which the story was written. And perhaps it is not so different from the many images of God we project, sometimes through story, but also through stained glass windows, through mosaics,through sculpture—and sometimes even in our attitudes! Perhaps the figure Job portrays through story is of a piece with what we Christians have depicted through the centuries, whether in Michelangelo's magnificent painting in the Sistine Chapel, or our more mundane images of an elderly, robust man. Perhaps our own images, however widely held, are as suspect as this image from the early chapters of Job!
The text thus invites us to examine our own images of God, holding them in mind until we get to the third lectionary selection of Job on October 21st when all these images are blown out of the water. What, then, are our images?
Is God the Person to whom we read the newspaper in our prayers? (This image stems from a dear pastor of many years ago who used the pastoral prayer as a time to inform God of the things going on in our world.)

Is God sort of a divine assistant, who, with appropriate intensity of praying, stands ready to do our bidding?

Is God a far-off distant creator who spun a universe into existence but then left it to spin away on its own while God tended to more important things?

Is God the reinforcer of our favorite political demands—or worse, a divine embodiment of our politics?

Is God the Great Punisher? The easy grandfather? The healer?
My suggestion is that the opening chapters of Job be used to explore our own images of God, and to raise questions as to their adequacy. We must judge them all against the corrective image we will encounter in the final chapters of Job.
---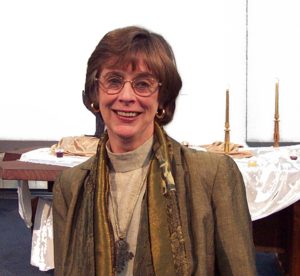 Marjorie Hewitt Suchocki is Professor Emerita, Claremont School of Theology, Faculty Co-Director Emerita of the Center for Process Studies, Director Emerita of Process and Faith, and the founder and former Director of the Common Good International Film Festival (formerly, Whitehead International Film Festival). Among her many books are God Christ Church: A Practical Guide to Process Theology; The End of Evil: Process Eschatology in Historical Context; The Whispered Word: A Theology for Preaching; In God's Presence: Theological Reflections on Prayer; and Through a Lens Darkly: Tracing Redemption in Film.