Twenty-Sixth Sunday after Pentecost (Proper 28), 18 November 2018
November 18, 2018 | by Bruce Epperly
| Reading 1 | Reading 2 | Reading 3 | Reading 4 | Reading 1 Alt | Reading 2 Alt |
| --- | --- | --- | --- | --- | --- |
| I Samuel 1:4-20 | Psalm 16 | Hebrews 10:11-14, 19-25 | Mark 13:1-8 | | |
I am a firm adherent of what I call the Forrest Gump Principle of lectionary preaching: "My mom always said life was like a box of chocolates. You never know what you're gonna get."  Sometimes the lectionary readings are made to order for your theological perspective; other times, the readings are problematic theologically and you need to summon up a great deal of theological creativity and chutzpah to preach them at all.  Often, these difficult readings become the basis, however, for insightful preaching. I must confess that I find today's readings challenging. They require a particular subtlety to interpret in theologically helpful ways. They raise more questions than answers, and may be offensive or hurtful to some congregants. Accordingly, these passages invite us to critique as well as to affirm the theologies of scripture.
I Samuel 1:4-20 is challenging to preacher and congregation alike.  Sermons are a form of spiritual medicine and the preacher is challenged "first, do no harm" when preaching on topics that touch the core of our identity as persons. Like many couples throughout history, Hannah and Elkanah struggle with infertility. She has begged God for a healing, but to no avail. Elkanah's attempts to console Hannah provide little comfort. What she wants, above all, is a male child to carry on the family name and deliver her from shame is experiencing. Hannah's issues are theological as well as spiritual. First of all, scripture suggests that "the Lord closed her womb." Today, such language would be criticized as a form of theological malpractice. Do we believe that God is the source of infertility and any other serious illness we face? Does God choose the moment of conception? Does divine providence determine every event, good or evil? How will a couple dealing with infertility issues respond to these words of lament and Hannah's eventual success?
Process theology takes a different theological path from approaches that claim that "God kills and brings to life" (I Samuel 2:6) and opens and closes wombs. While process theologians assert that God is present in every event as the primordial source of order, novelty, and creative energy, God's vision is also one of many factors in the creation of each moment of experience. Matters of life and death are multi-factorial and cannot be solely attributed to divine wisdom and power. God is on our side, as the fellow sufferer who understands and the fellow celebrant who rejoices. God feels Hannah's and our pain, and seeks wholeness, despite impediments to our hopes and God's own vision.
Hannah seeks God's blessing, praying that God will open her womb. Like many other persons in crisis, she seeks to bargain with God. With no other remedy in sight, God is her only hope. If God opens her womb, she will dedicate her child to God's work. Eventually, as a result of a curious interchange with the high priest Eli, Hannah receives the blessing she seeks and conceives a child. Once again, was this birth entirely the result of divine intervention or was God at work creating an environment for fertility, working within the normal processes of conception? Whatever approach we take, we must remember the pain of families who, despite their prayers, continue to experience infertility and be, above all, pastoral in our approach. As we give thanks for "God's answer" to Hannah's prayers, we must remember the prayers – often matters of life and death – that are not answered, or only partially answered. In the context of the multi-factorial nature of life, we cannot always fathom why some are healed and others not, and must avoid blaming the victim or assuming spiritual privilege or divine favor for those who receive healing.
Psalm 16 affirms the protective power of God.  The Psalmist recognizes that threats abound, but gives thanks for God's deliverance and care. The Psalmist has trusted God and that trust has been warranted. While trusting God does not always lead to safety and prosperity, it opens us to new possibilities and places our current situation in a larger perspective, which may give us a sense of peace and greater agency in times of challenge.
The words of Hebrews 10:11-14, 19-25 are foreign to most congregants these days. We don't emphasize the power of the blood or blood atonement as salvific. The notion of divine sacrifice for forgiveness of sin may even be an anathema to us.  If so, what can we garner from this passage? If we read it, we must preach it, as I noted, in last Sunday's commentary. Without focusing directly on a literal understanding of blood atonement, we can emphasize that God is on our side. God is not out to get us; God is out to love us, and God will do what is necessary to secure our well-being. Because God is on our side, we can live faithfully and confidently. We can begin again, letting go of the impact of the past and opening to a positive future. No longer having to justify ourselves before God or fear God's punishments, we can live freely and lovingly. The grace we've received inspires us to be graceful to others. Within the church, this means responding to differences with love and problems with encouragement.
The reading from Mark 13:1-8 has an apocalyptic tone.  The birth pangs of a new world are on the horizon. We don't need to be alarmed by wars and rumors of wars, because the future is in God's hands. This is also a difficult passage for those of us who don't – in contrast to some popular evangelists – assert that "the bad news is good news." We don't expect a divine rescue operation or God to intervene to unilaterally solve our problems. Still, we yearn for a wider perspective that gives us hope in the maelstrom of history. Today, many of us are anxious and overwhelmed by the "breaking news" coming from the highest levels of government. Our nation seems to have jettisoned its spiritual GPS and placed profits and security over compassion and planetary survival. For persons in the USA, our illusions about our nation's morality have been shattered as self-aggrandizement and self-interest are exalted as our highest values.  We see an apocalypse on the horizon but it is of our own making as persons at the highest levels deny the obvious realities of climate change and place the future of humankind and the planet in jeopardy.
Mark reminds us that our hope is not in our leaders.  In fact, despots and demagogues will be consigned to the ash heap of history. Their days are numbered and although they will do evil in their time, the arc of history leans toward justice and wholeness. Such hope may seem ungrounded when the future of the planet hangs in the balance, but we must trust that there is a counter-force to chaos and alienation in order to continue to work for justice and earth care.
---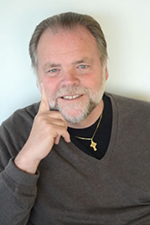 Bruce Epperly is Pastor and Teacher at South Congregational Church, UCC, Centerville, on Cape Cod, MA, and professor in the D.Min. program at Wesley Theological Seminary. He is the author of over 40 books, including Process Theology: A Guide for the Perplexed, Process Theology: Embracing Adventure with God, Process Spirituality: Practicing Holy Adventure with God, and The Gospel According to Winnie the Pooh.