Have You Seen Our Lectionary Commentary Lately?
---
We offer Process Theology interpretations of the Revised Common Lectionary readings each week!
Our current Lectionary Commentary author for the next few weeks is the Rev. Bruce Epperly, Ph.D.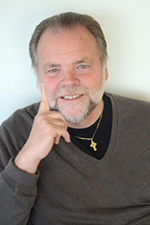 Bruce Epperly is Pastor and Teacher at South Congregational Church, United Church of Christ, in Centerville, MA and Professor in the areas of theology, spirituality, and ministerial leadership in the D.Min, Program at Wesley Theological Seminary.  For over 35 years, he has served in the capacities of university chaplain, seminary administrator, and professor at institutions such as Georgetown University, Wesley Theological Seminary, Claremont School of Theology, Christian Theological Seminary, and Lancaster Theological Seminary.  Ordained in the United Church of Christ and Christian Church (Disciples of Christ), Bruce is the author of over forty books, including Process Theology: A Guide for the Perplexed; The Gospel According to Winnie the Pooh; Becoming Fire: Spiritual Practices for Global Christians; Praying with Process Theology: Spiritual Practices for Personal and Planetary Healing; and Tending to the Holy: The Practice of the Presence of God in Ministry.  In the year ahead, the final two books of the process trilogy, Process Spirituality and Process and Ministry, will be released as sequels to Energion Publications' Process Theology: Embracing Adventure with God along with Upper Room Books' The Mystic in You.  As well as being our current lectionary commentary author, Bruce also writes another weekly lectionary commentary, "The Adventurous Lectionary," which appears in Patheos.com and Textweek.com.